Wire Display Racks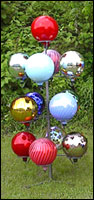 Aristo-tec uses its wire forming experience to fabricate wire display racks used by retailers to securely hold their product samples and offer an attractive display to highlight their merchandise. When working with commercial product displays, you require a sturdy and solid display unit, but you also want a display rack to highlight the product, not hide it behind heavy metal or platsic supports.
In the examples at right and below, Aristo-Tec not only fabricated the dispaly racks for its customers, it also designed the rack . Both the glass globes rack (left) and the Carpet display rack (right) needed to be durable and stable enough to hold heavy product samples without tipping over but also designed as to not hide the product. Aristo-tec designed a display rack that met both challenges.
By applying our wire forming and design experience, Aristo-Tec offers your company complete wire display rack capabilities from design to fabrication to single sourcing for production runs from one to thousands.
Wire Display Rack

This display rack was designed and fabricated by Aristo-Tec. The customer neede a wire display rack unit to display glass globes in retail stores. The dispaly rack needed to be sturdy but also wanted a unit that didn't hide the beauty of the globes. Aristo-Tec met the challenge and engineered a wire rack that was both strong and invisible to the product.

Wire Display Rack For Carpets

This wire display rack was fabricated by Aristo-Tec for a carpet manufacturer. They needed a custom display rack to hold carpet samples. The rack needed to be sturdy enough to hold a dozen sample books, be light enough to move yet strong and stable enough for every day use.
If you require a custom manufactured wire display rack contact Aristo-Tec for a complete quote from your designs or from ours.
---