Steel J Bolts - Cross Drilled J Bolts - Threaded J Bolts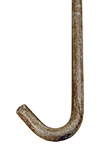 The vast majority of threaded steel J-Bolts manufactured by Aristo-Tec Metal Forms are for use in the bag house filter industry. These threaded J-Bolts are used in combination with springs, chains, specialty washers, hitch pins and a variety of sizes and configurations (See Bag House Filter Products).
The process begins by drawing hot rolled carbon steel rods to wire. the wire is then straightened and cust to length. The next step involves forming the "J" in the J-bolt on the end and then it is sent for threading or cross drilling according to the customer's requirements.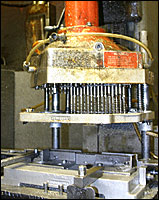 Aristo-Tec can provide cross drilled J-bolts with holes on 1/2" centers along the lateral center line of the J-Bolt. The usual wire sizes for these bolts are 1/2", 7/16", 3/8" , 5/16" and 1/4" with standard cross drilled holes being 3/16", 5/32", and 7/64". The normal number of holes per J-Bolt is usually 24 or less per bolt (determined by customer requirements) with more or less according to your specifications. We are happy to accept inquires for other sizes than listed above including measurements in English or Metric.
Our roll threading heads range form 5/8" down to #10.
WE DO NOT "CUT THREAD"!
If you are interested in threaded or cross drilled J-Bolts, please feel free to contact us at 724-626-5900 or use one of the contact buttons below to tell us about your project requirements.