Wire Handles Manufacturer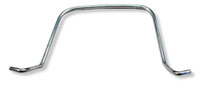 Aristo-Tec started in business as a wire handle manufacturer, supplying "pail bails" to the plastic bucket industry. We currently service a much wider variety of customers and products but our roots are in the wire handle business.
Being a handle manufacturer for many years and being focused on wire forming and products it was always a natural to manufacture handles. Wire handles have changed over the years from the simple one style handle for plastic buckets to more ergonomic designs for buckets, pots, camping equipment and more. Our years of wire forming experience enable us to design and fabricate almost any size, shape or design of wire handle. We now manufacture handles for a diverse group of products ranging cooking utensils to agricultural products.
Being a handle manufacturer also means we can fabricate or manufacture wire handles to meet both your specifications as well as inventory levels. From small production runs through large production runs, Aristo-Tec can quickly fill your order and be flexible enough to meet your needs.
If you are interested in a handles manufacturer to manufacture a part or complete product, please click her to contact us to discuss your project needs. If you would like to see our handles manufacturer gallery, please click here.