CNC Wire Forming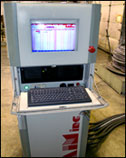 Our CNC machines offer the latest and most sophisticated method of wire forming.
It starts with our skilled operators who build a detailed CNC program of instructions on the machines computer. Coiled wire is fed to the bender from a powered payoff reel, through a set of two plane straighteners. Feed wheels push the wire into the forming head where the wire is formed according to the information received from the computer. After forming, the completed part is cut off and drops out of the machine
The advantages of CNC forming are:
Little or no additional tooling required.

Minimum set up time on repeat orders.

No maximum limit on the length of wire used in each part.

Faster than hand or air bending straight lengths of wire.
The disadvantages of CNC forming are:
Slower than four slide forming.

Some angles and radii are more difficult to achieve.

First time program development takes considerable time and expertise.
As a rule, the CNC forming bender is best suited for repeat orders in quantities of over 500parts to fewer than 10,000 parts.
---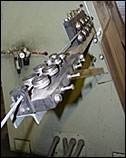 CNC wire forming offers many benefits related to improved automation and product quality including:
Reduce operator intervention

Consistent quality and repeatability

Bending operations can be stored into the computer for later retrieval

Flexibility in performing manufacturing operations
CNC - Reduced Operator Intervention:
Because the CNC forming is computer controlled, the machine can easily produce desired wire forms unattended, allowing the operator to focus on additional production tasks. This also reduces operator fatigue and human error resulting in a more consistent and high quality finished product.
CNC - Consistent Quality and Repeatability:
CNC provides a more accurate set of instructions for the machine to carry out the exact bending operations. The computer program which controls the actual movement of the machine can more accurately and consistently perform repeated operations than a human operator. Because the set up is controlled by a computer program, operations can be tested prior to production and saved for later use, reducing set up time and costs.
CNC - Flexibility of Production:
Because the wire bending operation is run by a CNC computer program, it can be stored for later use and switched to another program in a short amount of time. This enables the same machine to easily change from one type of wire form to another with reduced set up and change over time and costs. This also allows more flexibility by Aristo-tec to make a variety of wire forms with quicker change over time.
---